You probably already practice attachment parenting. It's the idea that your child's emotional needs are important and should be cared for. If you baby-wear, breastfeed, co-sleep and use gentle discipline, you're already an attachment parent. If you don't practice any of these, here are some reasons you should.
1. Your child will behave better
Attachment parented children approach new problems from a point of security and behave in more pleasant ways. For example, a baby might make several single, non-distressed cries that she's hungry before starting to wail. This is because she has learned that her needs will be met once she communicates them. A baby raised in a non-attachment style would immediately associate hunger with stress begin to panic.
2. Your child will socialize with other adults well
By keeping your child close, you normalize interaction with adults. When they become older, they'll be more likely to seek out adults for help and guidance. They'll also be more likely to take advantage of adult resources and interact with strangers.
3. Attachment parenting can reduce the risk of SIDS
New findings show that children who die from SIDS could be "physiologically disorganized." According to Dr. Sears, "Findings of higher heartrates and less adaptable heartrate variability in babies at risk for SIDS suggests these infants are less able to adjust their physiology to changing biological conditions. Also, several studies of high risk infants and babies who died of SIDS suggests that some of these babies had temperaments and behavioral qualities that lessened their ability to protest life-threatening circumstances."
If you want to read the science, click here, but essentially a child who spends a lot of time close to a parent becomes physiologically organized and more likely to respond to life-threatening situations.
4. You will have a relaxed baby
Babies who are introduced to stress early in life (frequent bouts or long stretches) are more prone to stress later in life. This creates long-term learning and developmental delays, problems adjusting to new situations, and trouble socializing. A baby who doesn't experience regular stress focuses his mental energies on learning and developing.
5. Your child will be more independent
There's a myth that children who are attachment parented become dependent on their parents. In fact, the opposite is true. Children who development secure emotional bonds in early life and more likely to push for independence later. They feel confident and less afraid of the world.
6. Your child will be emotionally giving
Children who receive an abundance of affection and attention are likely to give out affection and attention themselves. By making the emotional connection normal, attachment parents have more fulfilling relationships with their children later in life because the children desire those relationships equally.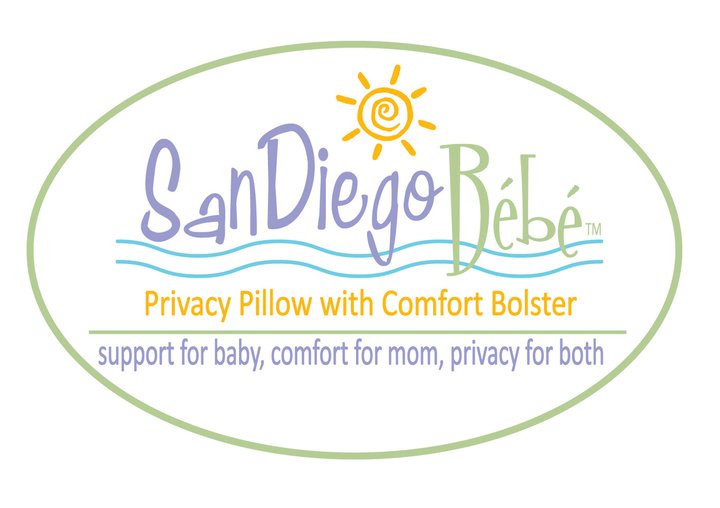 Guest Blog by Sandy Clark, Inventor of San Diego Bebe Eco-Nursing Pillow
San Diego Bebe® was designed by San Diego native Sandy Clark, a passionate breastfeeding advocate and mother of twins. Clark was inspired at a San Diego beach one day where she witnessed a young mother unsuccessfully nursing her baby. As the mother struggled to keep a blanket across her shoulder for privacy while her baby wailed from heat and hunger, Clark vowed then and there to design a product that would help resolve the issue of discretion while nursing in public. San Diego Bebe® was born that day.
After Clark read a recent Duke University study on toxic chemicals in baby products, she sent her nursing pillow to Duke to be tested and reviewed. Duke University Chemical Scientist Dr. Heather Stapleton, the nation's leading fire-retardant research specialist, and a new mother herself, said, "It's wonderful to find a nursing pillow on the market that is not treated with chemical flame-retardant additives in the filling material. San Diego Bebe® Eco-Nursing Pillow is not only a very supportive pillow with amazing features for discreet nursing, but is also free of flame-retardant chemicals that have been shown to cause adverse health effects in animal studies. I applaud this manufacturer for taking steps to produce high quality products that meet the same flammability standards without using these chemicals."
San Diego Bebe® Eco-Nursing Pillow is the healthiest and most innovative nursing pillow on the market. Made with virgin Eco*Loft™ fiber, a non-toxic and hypo-allergenic foam-alternative, it's void of harmful chemicals. It's also recyclable and eco-friendly. San Diego Bebe® is available in two versions, for nursing one baby or twins. The entire line is baby-safe, and is covered with deluxe plush fabrics including organic cotton.
Click to view a Nursing Pillow Comparison Chart to learn more.
Interested in writing a guest blog for Woombie? Send your topic idea to pr@woombie.com.
All data and information provided on this site is for informational purposes only. Woombie makes no representations as to accuracy, completeness, current-ness, suitability, or validity of any information on this site and will not be liable for any errors, omissions, or delays in this information, or any losses, injuries, or damages arising from its display or use. All information is provided on an as-is basis.